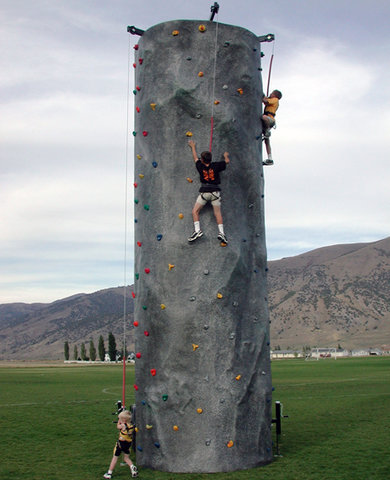 3 Station Rock Wall
Actual Size: 45' X 45'
Setup Area: 45' x 45'
Outlets: 1





$1,199.00

Please call to reserve this item

Mobile Rock Climbing Wall Rentals
Rock climbing walls are a fun addition for any kind of event including but not limited to: graduations, grand openings, field days, Spring flings, community festivals, and more. Here at CJ'S Event Rentals, we will educate you and your guest on all the best practices when using our rock-climbing wall. You can also count on our highly trained staff to assist all the party-goers when putting on and taking off the safety harness. Your safety is very important to us and that is why we don't allow any of your guests on our rock wall rental until our employees have had the opportunity to thoroughly inspect every cable to ensure your guest's safety.
How to pick the right rock climbing wall for your next event
There are many things you must consider when choosing a rock-climbing wall for rent. First, you must consider the size of your venue and how many guests will be attending. This will allow us to determine the traffic density of your lines. When renting a climbing wall is important to consider how many participants throughout the duration of the event can use the ride. Fortunately, we have one of the only three-lane rock walls in the Savannah area. The majority of rock walls typically offer 1 to 2 actual climbing lanes. These may cost us a little more but don't worry we won't burden you with any extra fees. So please feel free to price shop us and check out what other options you may have. Our goal at every event is to make sure the lines are steadily moving and that none of your guests are disappointed due to being in a long-winded line.
When renting a rock wall from us or any other rock wall rental company, you are going to want to make sure that there's a mixture of challenges on the climbing lanes. To keep your guests sound and happy, we want to make sure our rock wall rental will be a fun challenge no matter the athletic abilities your guest may or may not have. Please make sure you have no trees in the way are the fun can end before it began. If you are positive that you will have the proper setup area please call us today and we can walk the grounds in an effort to make sure we have a suitable location for your venue. Please note our rock-climbing wall rental stands 25ft tall but needs another three ft of clearance from any tress our structures.
THE PRICE IS FOR 2 HOURS CALL FOR ACCURATE PRICING ON ADDITIONAL HOURS.