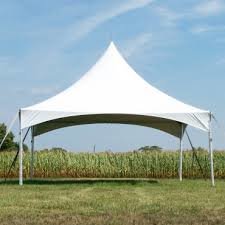 20x20 High Peak Tent




Regular Price (6 hours): $499.00
Weekend Price: $574.00




20′ x 20′ White Marquee Canopy

Has a Self Supporting

Engineered

Tension Frame with a 16'10" Peak – No Center Poles & only 4 – 8′ Corner Poles.
When your event calls for more room this Canopy works great! These Tents are modular and can be set up individually or joined together with a gutter to an additional

Marquee Canopy.
Tents could be dropped a day or so prior and picked up a day or so after! If your event is time sensitive, please call us!